For 13 years, CarbSmart was an online store powered by Yahoo Small Business. Yahoo Merchant Solutions is a great solution for any large or small web store.
In 2012, CarbSmart.com was converted from an online store to the WordPress platform.
CarbSmart.com is powered by the Genesis Framework
The Genesis Framework empowers you to quickly and easily build incredible websites with WordPress. Whether you're a novice or advanced developer, Genesis provides you with the secure and search-engine-optimized foundation that takes WordPress to places you never thought it could go.
With automatic theme updates and world-class support included, Genesis is the smart choice for your WordPress website or blog.
I have been amazed at the professionalism of Copyblogger Media, LLC, the company behind the Genesis Framework. Not only were they able to help me make the decision to switch to WordPress and the Genesis Framework, when I did switch, their tech support team was always available to get us through the conversion. If you want to take your WordPress blog to the next level, I highly recommend the Genesis Framework.
Become a StudioPress Affiliate.
CarbSmart.com uses the News Child Theme powered by the Genesis Framework
Before the conversion to WordPress, CarbSmart.com already had over 2,200 pages of content about the low carb lifestyle.This included over 1,300 product pages and over 800 articles we had been writing since 1999. We needed a very powerful WordPress Theme that could easily handle the existing pages as well as anything else we created.
This is why we chose the News Child Theme which sits on top of the Genesis Framework.
When you have readers and customers who are always hungry for more, deliver it in style with the publishing powerhouse News theme.
News theme supports all of the great articles, audio and video of your content-heavy site, with eye-popping design and simple navigation. News theme keeps you on the front lines.
Become a StudioPress Affiliate.
Theme Customization by EYStudios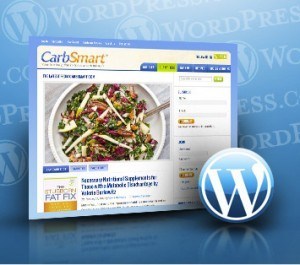 For the relaunch of CarbSmart.com, we had EYStudios, Inc. customize the News Theme for our own unique look and feel. WordPress is in a class of their own when it comes to available plug-ins and modules at no additional charge to the site owner. WordPress also allows the ability to preview design and coding updates prior to applying it to your live site, which is extremely beneficial from a programming standpoint.
The sky is the limit when it comes to design customization on WordPress and EYStudios has experience developing fully custom WordPress sites that will be sure to represent your brand's identity.
Visit eystudios.com or call 888.429.4803.
Scribe Makes Search Engine Optimization Simple
It's one thing to have great people working with you like Dana Carpender and Amy Dungan to create great content to help you live your low carb lifestyle, its another thing to have people find that great content in Google, Yahoo and all over the Interwebs. That's why we use Scribe by Copyblogger Media.
Keywords
Scribe shows you the language searchers use before you begin to write. Once your content is created, Scribe reveals other profitable keywords.
Content
Scribe analyzes your natural, reader-focused content, and tells you how to gently tweak it to spoon feed search engines based on 15 SEO best practices.
Links
Scribe helps you build back links, crosslink the content within your own site, and identify influential social media users who want to share your stuff.
Purchase Low Carb Foods from Our Trusted Partners
CarbSmart.com has set up partnerships with some of the best online stores to help you stay on your low carb lifestyle. The stores below are our most trusted partners and we know they will do a great job for you.

By clicking through to these stores, you will help us continue our mission of staying your trusted guide for the low carb lifestyle:

Netrition.com – Over 13 years as an online retailer specializing in low carb, gluten free, and sports nutrition.

VivaLowCarb.com – VivaLowCarb.com has been an online retailer since 2005 and also maintains a retail store in Santa Fe Springs, CA. One of their specialties is Low Carb Breads and Bagels.

Amazon.com is the largest online retailer in the world and carries hundreds of low carb items as well as just about anything else you could imagine.