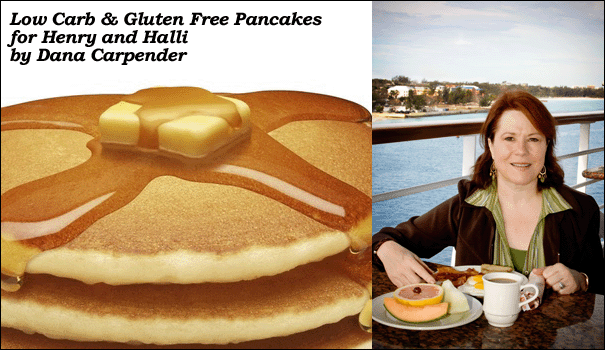 My nephew Henry and niece Halliday came to stay with That Nice Boy I Married and I this past week. We had a super-great time with them, as we always do – went to the county fair, did a little geocaching, watched a few movies, and just generally hung out.
Henry and Halli, however, are not egg fans, so I came up with these pancakes for them. They pronounced them "awesome," and scarfed them down in quantity. When we returned them to their parents, Henry and Halli declared these pancakes "tasted like regular pancakes." TNBIM and I enjoyed them, too.
Your yield, and therefore your carb count per pancake, will depend on how big you make your pancakes. Oh, and these reheat nicely the next day, should you have leftovers. We did; the recipe makes quite a few pancakes.
Low Carb & Gluten Free Pancakes for Henry and Halli
1 1/2 cups creamed (4% fat) cottage cheese
6 eggs
6 tablespoons vanilla whey protein powder
1/2 teaspoon salt
1 teaspoon vanilla extract
1 tablespoon Splenda or Stevia in the Raw, or other sweetener to equal 1 tablespoon sugar
1 1/2 teaspoons baking powder
1/2 cup milk
3 tablespoons coconut oil, melted
1/4 cup coconut flour
This is easy! Put your griddle or biggest skillet over medium heat before you make the batter, so it will be hot when you're ready to cook. If it's not non-stick, give it a good squirt of non-stick cooking spray first.
Put all the ingredients in your blender, and run till you have a smooth batter. You'll need to scrape down the sides of the blender a few times with a rubber scraper.
Now just pour the batter from the blender right onto the griddle or skillet, and cook like regular pancakes. Flip 'em when the top surface starts looking a little dry, and the bubbles that pop around the edges leave holes, instead of filling in. If you flip 'em too soon, they'll tear.
Serve with butter and sugar free syrup, or low-sugar jelly, or lowest carb of all, cinnamon-Splenda or cinnamon mixed with Stevia in the raw. They'd also be fab with some berry compote, which is super-easy to do: Just put berries – whatever sort you have on hand – in a saucepan with a splash of water and a teaspoon or two of lemon juice. Simmer just until you can smoosh the berries, sweeten to taste with your sweetener of choice, and spoon over your pancakes.
Assuming you get 20 pancakes, each will have: 88 Calories; 5g Fat; 7g Protein; 4g Carbohydrate; 1g Dietary Fiber, 3 grams usable carb.
You can drop that carb count by 1 gram per pancake by substituting heavy cream or unsweetened almond milk for the milk.
© 2011 by Dana Carpender. Used by permission of the author. What do you think? Please send Dana your comments to Dana Carpender.
LIKE THIS ARTICLE? THEN SUBSCRIBE TO OUR FREE EMAIL NEWSLETTER