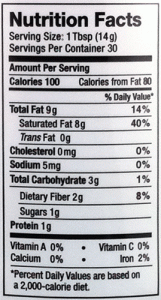 Gluten Free
Low Carb
Pure, Dried Coconut Flesh Melts in your Mouth
Non-GMO / Zero Trans Fats
No refrigeration required
Spreads easily at temperatures above 72 degrees
Will delight those looking for coconut butter and coconut cream
Nutiva Coconut Manna is creamy whole coconut food that will delight people looking for coconut butter, coconut cream, coconut oil butter and coconut body butter. Nutiva Coconut Manna is great to use as a replacement for milk, cream, yogurt or butter. It's delicious on top of or mixed into your low carb dishes – desserts, cereals, and smoothies. Some folks love it spread on low carb toast or crackers (for a strong 'coconut-ty' flavor.)
Creamy Whole Nutiva Coconut Manna is a delicious whole food, made of pure, dried coconut flesh. This tropical "melts in your mouth" treat contains 12% dietary fiber and 9% protein and nourishing fats.
Warm it up to spread the goodness. Great for smoothies, sauces, dressings, desserts, icing, and ice cream.
To liquify, place Nutiva Organic Coconut Manna Coconut Cream Spread jar in hot water for 2 minutes and stir. Note: the red or brown specks are characteristic of natural coconut products.
Nutrition Facts
Serving Size 1 Tbsp (14g)
Servings Per Container 30
Calories 100
  Calories from Fat 80
Total Fat 9g
  Saturated Fat 8g
  Trans Fat 0g
Cholesterol 0mg
Sodium 5mg
Total Carbohydrate 3g*
  Dietary Fiber 2g*
  Sugars 1g
Protein 1g
Ingredients: Organic Whole Coconut.
NOTE: in colder climates, and during the cooler months, your Coconut Manna will tend to harden. You can use a spoon to
LIKE THIS ARTICLE? THEN SUBSCRIBE TO OUR FREE EMAIL NEWSLETTER