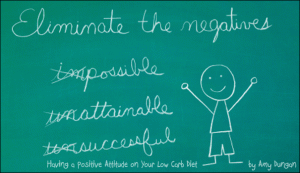 Today is Positive Thinking Day and it got me thinking about keeping a good attitude on your low carb diet. Everybody I know who is successful on the low carb lifestyle not only improved their health and well-being, they improved their outlook on life and starting treating everything in their world in a new and positive way. These are the people that stay positive and stay focused on their low carb diet no matter what life (or their negative friends and relatives) throws their way.
The Power of Positive Thinking and the Low Carb Lifestyle
Over the years, we have published a ton of articles about positive thinking, avoiding negative energy, and being a long-term success on your low carb lifestyle. Here are some of the best from the last 13 years.
How have you applied Positive Thinking to ensure your success on the low carb lifestyle? Have you been able to overcome the nay-sayers with positive thinking?
LIKE THIS ARTICLE? THEN SUBSCRIBE TO OUR FREE EMAIL NEWSLETTER