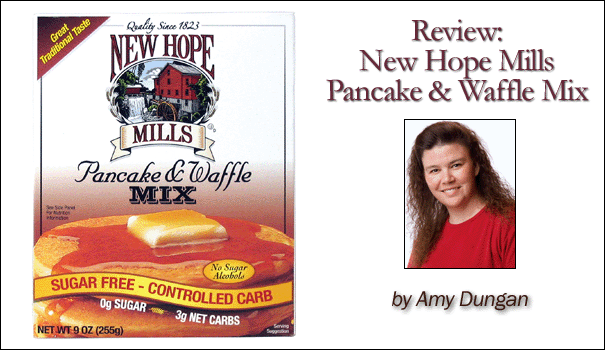 Pancakes were a breakfast staple at our house for many years. Who doesn't love a warm, fluffy pancake? They are especially great when dealing with kids, or large groups, since pancakes are simple to fix and relatively inexpensive. Add in all the different topping choices and you have what seems to be a perfect meal. The downside is pancakes are really high in carbohydrates, not to mention that nutritionally they deserve to sit in the corner with a dunce hat on. For the last several years we've mostly shunned pancakes. We quit inviting them to breakfast and refused to acknowledge them on menus in public. While my children have occasionally whispered that they missed pancakes, I reminded them that pancakes have never done us any favors. In fact, they've always been wolf in sheep's clothing, disguised as a healthy low-fat breakfast.
This morning I decided to give pancakes another chance, but only because these pancakes are kind of special. They'd promised me they had changed their carby ways. So I whipped up a batch of New Hope Mills Pancake & Waffle Mix and prepared myself for reconciliation. I'm happy to say that these 3 net carb pancakes taste very much like their high-carb counterparts. The texture isn't rubbery, nor are there sugar alcohols, which is often the case in low-carb pancake mixes. I do have to admit they didn't turn out thick and fluffy, like you see in the Mrs. Butterworth commercials, but then I've made regular mixes that were pretty flat too.
The serving size is 4 smallish pancakes, which was more than enough to fill me up. In fact, I couldn't eat the last one. Add some bacon and eggs and you have a nice little love triangle going on. You'd need fewer pancakes to fill you up, get even less net carbs and still be allowing yourself a little something different.
The ingredient list might give you pause, but if you really want pancakes, this is likely a better alternative to the mixes you've tried in the past. And as I've said, the taste is just as good. If you were a fan of the Atkins 3 Carb Pancake and Waffle Mix, then you'll be very happy with this product, as it's made by the same manufacturer.
Nutritional Information (mix only)
Serving Size: 1/4 cup dry mix (24 grams)
Ingredients: Wheat gluten, cornstarch (low glycemic), casein protein, leavening (baking soda, sodium aluminum phosphate, monocalcium phosphate), whey protein, natural flavor, sucralose.
I give New Hope Mills Pancake & Waffle Mix 4 out of 5 stars (based on taste, texture, carb counts, ingredients & ease of use).
Disclosure: I was provided this product free of charge in order to review it. It in no way affected my opinion of the product.
© 2011 by Amy Dungan. Article and photograph used by kind permission of the author. Send Amy your comments to Amy Dungan.
LIKE THIS ARTICLE? THEN SUBSCRIBE TO OUR FREE EMAIL NEWSLETTER