Nevada Manna Sugar Free Chocolate Chips 8 oz. bag – "Best" By Date is May 2013 but Guaranteed Fresh
$5.00 per bag @ NevadaManna.com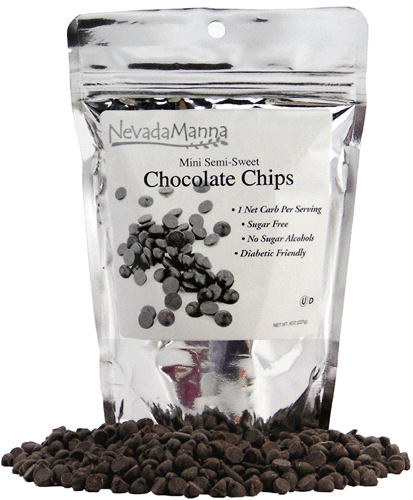 Stock Up Now Sale at NevadaManna.com
Our Current Supply – "Best" By Date is May 2013 but Guaranteed Fresh.
$5.00 per bag
We will be producing our next batch at the end of the summer.
Sugar Free
No Sugar Alcohols
Diabetic Friendly
Nevada Manna Sugar Free Chocolate Chips for baking (Formerly called CarbSmart Sugar Free Chocolate Chips) – perfect for winter baking – or anytime! Comes in an 8 oz bag. Sugar free chocolate chips without sugar alcohols? Only Nevada Manna has listened to what their customers wanted – low carb, sugar free chocolate chips without a laxative effect. NevadaManna does this by adding a lot of good dietary fiber to a sweetener mix of acesulfame potassium and Splenda, which aids digestion while staying low carb. These chocolate chips are just so tasty, you'll want to eat them straight from the bag!
Nutrition Facts
Serving Size: About 2 Tbsp (15g)
Servings per container 15
Calories 80
Calories From Fat 50
Total Fat 5g
Sat. Fat 3g
Trans Fat 0g
Cholesterol 0mg
Sodium 15mg
Total Carbohydrates 8g*
Fiber 7g*
Sugars 0g
Sugar Alcohols 0g*
Protein 1g
Ingredients: Chocolate liquor, polydextrose (soluble fiber), cocoa butter, cocoa powder, soy lecithin, sodium bicarbonate, vanilla, acesulfame potassium, sucralose.
*Net carbs as listed by the manufacturer on the package = 1g per serving.
Order at NevadaManna.com.