Viva Low Carb
. Now is a great time to stock up on low carb foods like low carb bake mixes, low carb desserts, low carb snacks, low carb beverages, low carb breads, and much, much, more.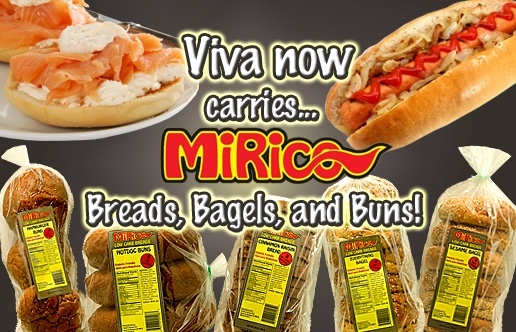 Shop now at VivaLowCarb.com!!!
Good taste, Good texture, Good shelf life and independently lab tested and verified Low Carb!
20% off all MiRico Breads, Bagels, Buns and Tortillas!!
Breads and Bagels were $7.99 now $6.39!
Tortillas were $3.99 now $3.19!
No coupon code necessary.
01/25/12 thru 01/29/13
Viva Low Carb has been serving the low carb and diabetic community since 2004 with their online store and retail store in Sante Fe Springs, CA. They carry over 1,300 low carb products and they are always looking for the latest and greatest sugar free foods to help you live your low carb lifestyle.
Their Mission:

Viva Low Carb is dedicated to helping ourselves and everyone else who needs to be in a low sugar and low carbohydrate lifestyle. We work hard to offer our customers a wide variety of high quality foods and goodies that are "safe" to eat within a restricted diet.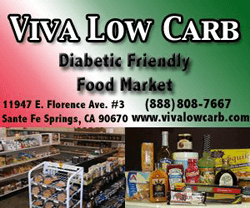 Whether you visit their website or retail store in Santa Fe Springs, CA, Rossana, John and their dedicated staff will take care of your low carb, sugar free and diabetic-friendly food needs.
And if you have a retail store or know of a retail store in your area that wants to sell a wider range of low carb foods, Health Express Dist. is their wholesale division that sells a large variety of low carb brands. Health Express is also their own brand name of products including low carb breads, sugar free pancake syrups, candies and chocolates, pizzas, and much more.
If you are in the Los Angeles, CA area, you can visit them:
Viva Low Carb Superstore
11947 Florence Ave # 3
Santa Fe Springs, CA 90670
(888) 808-7667
or (562) 946-2130

Open: M-F 10-7 Sat 10-3
Sunday NOW OPEN 11-4
LIKE THIS ARTICLE? THEN SUBSCRIBE TO OUR FREE EMAIL NEWSLETTER

This week's sale items at our friends